Meet SARA
When it looked like the GOP might successfully repeal the Affordable Care Act, I joined with masses of activists nationwide and in Washington D.C. to fight for the healthcare that my family and so many others need to survive. In doing so, I found my voice and my power to make a dramatic impact on the world outside of my own home.
From lobbying legislators on disability rights with the Little Lobbyists to occupying the halls of Congress to demand healthcare access and sitting on the board of Torah Trumps Hate, I've gotten the opportunity to see how the expertise that I've gained through my own life experiences and 16 years of parenting my five children, all of whom have complicated medical disabilities, gives me a valuable perspective that I believe is missing from our State Legislature.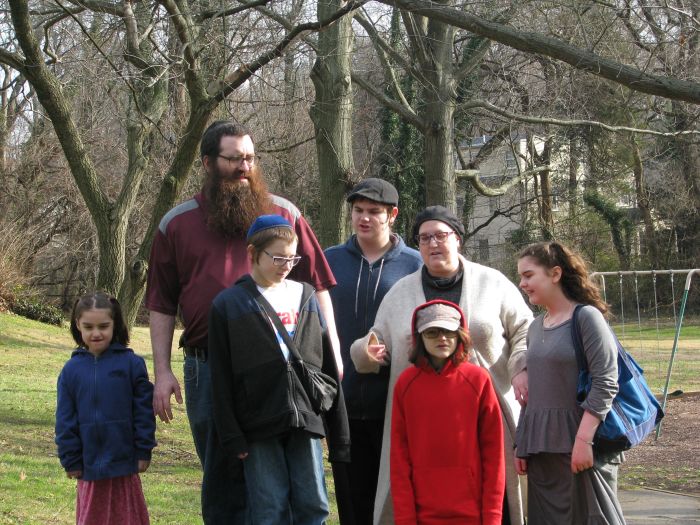 I'm a Chicago transplant, but over the last sixteen years, I've made Penn Wynne my home. I've gotten to know the people, made my family here, and found a strong community of like-minded people whose shared Democratic values give our representatives the ability to lead on the issues that matter to us, like expanding access to healthcare, improving public education, supporting worker's rights, saving ourselves from the oncoming devastation of climate change, demanding transparency and accountability from our government.
I'm not exactly a traditional candidate. Rather than learning about the struggles that families face today through academic or corporate experience, I've lived them. I've spent the last sixteen years fighting. Fighting to get my kids the healthcare that they need and the special education services that they deserve, fighting to live and thrive as a woman with disabilities, fighting to make space for myself as a progressive feminist in a traditional religious community, and fighting to make my corner of the world a better place.
Now, our community is facing an uncertain future; our incumbent Senator has stepped down from his prime committee assignments and been called on to resign by both his own Caucus and the local Democratic Committees after several allegations of sexual misconduct came to light, but he is ignoring their calls and running in 2020 without the support of the Party or concerned constituents like myself.
I believe that my passion and expertise, commitment to progressive values, strong community ties, and history of community organizing make me an ideal candidate to bring focused, ethical leadership back to District 17.